Expert Trekking & Expedition Services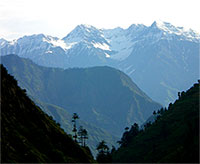 Himachal Pradesh is the land of snow-clad mountains, peaks, cascading water falls, alpine meadows and lush fruit laden valleys. Rivers in deep gorges and placid mountains lakes, thick forest and acres of spree, mountain sides draped in snow, and green alpine meadows, all form a part of this immense spectrum. And the possibilities for a wide range of adventure activities is enormous. There is skiing, heliskiing and ice-skating. There is the thrill of paragliding and the test of stamina with mountain-cycling. You can go camping and fishing and play golf or take a safari by car, jeep or on motorcycle. Then there is mountaineering and rock climbing. No special training is required for most activities, age is no consideration and all you need is a reasonable level of fitness. Equipment, training and instructors are available. And then, all this comes at a fraction of what it would cost elsewhere in the world.
Our Organized Trekking Routes :
Shepherd Trek - Kangra Valley To Lahoul Valley [Moderate to strenuous - 12 days]
Holy Lake Trek - Kangra Valley to Chamba Valley [Moderate - 9 days]
Pin Valley Trek [Strenuous - 12 days]
Miyar Valley Trek [Moderate -7 days]
Malana Trek [Moderate- 4 -5 days]
Manali - Chandratal - Baralacha Trek [Moderate-16 days]
Shepherd's Ancient Route - Kangra Valley to Ladakh [Strenuous to Moderate - 35 days]
View our Trekking packages page for more trekking packages with us
Summer Treks:
We offer a full ranges of exciting Summer Adventures. If not sure what trip is right for your ability or experience? We've organized our trips by level of difficulty to help you choose the trip that's best for you :
Getting Started or Tuning Up:

These camps are designed for people with little or no previous trekking or climbing experience and will help get you started or build your confidence. you must have a good level of fitness and be able to carry a 10kg pack for 5- 6 hours.
Summer Mountaineering:
Moon Peak-4550m. - May – Oct Mid, (7-9 days)
Kareri Lake Hiking Camp - April - Oct Mid, (5-6 days)
Moderate :
These camps are designed for those with some climbing experience and basic rope handling skills. For the alpine camps, you must have a good level of fitness and some experience traveling on glaciers, mixed snow and rock, or exposed fourth-class terrain. And carry up to a 10kg pack for 6-7 hours. For the rock climbing camp, you must be comfortable climbing 3-4 rocks
Classic Heights Of Holy Lakes (Kareri Lake, Lamdal & Nagdal Lake) - June Mid to October (6-9days)
Summer Trekking and Climbing Camp To TRIUND, INDRAHAR PASS(4350m.), MINKIANI PASS(4320M) - April 15 to Nov Mid,(4-5 days)
Bara-Bhangal Trek - Grade-Tough - June to Mid of Oct, 12 Days
Mani-Mahesh Yatra, Grade- Moderate - June to Mid of Oct, 3 Days.