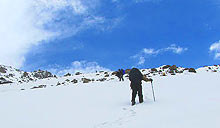 A moderate trek to Keylong from Manali via Hampta pass which is 4270 mts.
DAY 01: Arrive Delhi Arrive Delhi. Meeting and assistance on arrival and transfer to hotel. Later in the evening board the overnight luxury coach to Manali (1850 mts) in the famed Kullu Valley.

DAY 02: Arrive Manali Arrive Manali in the morning.Check in at the hotel. Overnight at the hotel.

DAY 03: Manali - Prini-Sythen (3-4 hrs) Half and hour drive from Manali to Prini where the trek begins. Camp a few kilometers beyond Sythen Village (2710 mts) in a narrow valley. Overnight in tents.

DAY 04: Sythen - Chikha (3-4 hrs) Trek through lush green high altitude pastures to a beautiful camp site at Chikha (3270 mts). The area is speckled with wild flowers and there are a few waterfalls just behind the campsite. Overnight in tents.

DAY 05: Chikha - Bhalu ka Dera (3-4 hrs) Easy walking till the next camp at Bhalu ka Dera (3700 mts) at the base of the Hampta Pass. Bhalu ka Dera is literally translated into Bears Camp where small brown bears use the caves around to hibernate in the winter. Overnight in tent.s

DAY 06: Bhalu ka Dera - Hampta Pass - Siliguri (6-7 hrs) The trekking on this day is challenging and the climb to the top of the pass (4270 mts) takes about three to four hours. The views from the top of the Pass include some high peaks and stunning mountain scenery. Overnight in tents.

DAY 07: Siliguri - Chatru - Manali (4+4 hrs) First views of the Chandra Valley and Lahoul await you on this day. After two river crossings you get to Chatru which is on the road head and is the end of this trek. Pick up at Chatru by motor vehicle and drive back to Manali over the Rohtang Pass. Overnight at the hotel.

DAY 08: Manali- Delhi (14 hrs, 550 kms) Drive from Manali to Delhi be luxury coach. Alternately one can extend his stay by a day and sight see around Kullu-Manali. Check in at the hotel. Overnight at the hotel.

DAY 09: Depart Delhi Depart Delhi for onward destination.