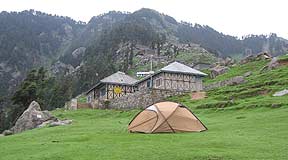 Amazing Dhauadhar Mountain Trails covering Mcleoganj, Triund, Palampur, Barot
Day 01- Arrival Pathankot Dharamsala and transfer to hotel.
Day 02- Mecleodganj- Sightseeing by Guide.
Trek starts:
Day 03- Mecleodganj to Tirund( 9km.-2925m.) and camping.
Day 04- Tirund to Ilaka Glacier and back to Tirund(10km.).
Day 05- Tirund to Ball river (9km.-1900m.) and camping.
Day 06- Ball river to Naddi Vill. (2.5km.), Trek End, to Palampur (by cycling)-49km. And camping.
Day 07- Palampur to Joginder Nager(Sarvalinga & Bir Monasteries) and camping-44km.
Day 08- Joginder Nager to Barot and camp.-28km.
Day 09- Barot-Angling Day.
Day 10- Barot to Palampur and camping-72km.
Day 11- Palampur to Pathankot-125km.(by Toy Train).