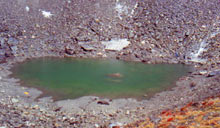 Roopkund Lake is situated at an altitude of 5029 mts in Chamoli district.
Day 01: Delhi
On arrival, pickup from the Delhi International airport and transfer to hotel.
Overnight: Hotel

Day 02: Delhi - Rishikesh
Drive to Rishikesh enroute visit Haridwar (Holy City). Upon arrival Rishikesh transfer to Hotel.

Day 03: Rishikesh - Mandoli (265 kms / 10hrs)
Drive to the small hamlet of Mandoli (2134m), from where the trek begins.
Day 04: Mandoli- Wan
Begin the trek with a 2 km climb to Lahajang Pass (2590m) on the top, a few small temples & the bell hanging from a tree. This place is named after a mythological demon that was killed here by Goddess Nanda Devi. The trail goes down 7 km and after a gradual climb of 5 km reaches Wan.

Day 05: Wan- Bedni Bugyal (3354m)
Begin the uphill trek and reach the 'Bugyals' (high altitude meadows) of Bedini (3354m) a beautiful location with magnificent view of the surrounding mountains.

Day 06: Bedni Bugyal - Baguabasa (4100 m)
After 2 hours of gradual climb up, uninterrupted views of Trisul range and Nanda Ghunti can be appreciated. The trail crosses a hump to reach Bistola and then climbs up to Baguabasa, an improvised stone shelter that is generally used by local pilgrims.
Overnight: Tent

Day 07: Baguabasa - Roop Kund (5029 m) and back to Baguabasa
Stupendous views of Trisul and the mountains around. An arduous and spectacular trek for about three hours gets us to Roop Kund, a holy lake surrounded by glaciers and high peaks and situated on the outer rim of the Nanda Devi Sanctuary. Every 12 years thousands of devout pilgrims, carrying a golden idol of the goddess Nanda Devi, undertake a difficult trek to this holy lake from Nauti village, near Karnaprayag.

Day 08: Baguabasa - Wan (2450 m)
Return trek to Badni Bugyal. The trek then makes a long, steep descent through a fine forest of firs and rhododendrons and across a beautiful clearing with much of the track being paved. After crossing a river, a short climb leads to the main valley, at the head of which is Wan.

Day 09: Wan - Kukin Khal Pass (2900 m) - Sutol (2200 m)
Walking on past Latu's temple the path climbs gently up through magnificent cypress trees. After the pass the path drops down to broad meadows. The village of Kunol (2650 m) is set in an idyllic location with stunning views of the high peaks north of Josimath. Above the village rhododendron trees remain in full bloom from april until beginning of june. Further down the trail is lined with orchids and luxuriant ferns as it passes through one of the finest mixed forests in Garhwal.

Day 10: Sutol - Ramni (1982m)
The trek now traverses along the valley with a number of ups and downs and huge drops down to the river gorge below, through forests smelling of fir trees. After dropping to a river, crossed by a green girder footbridge there is a long steep climb to a little temple followed by a gradual climb through forest to emerge near farms and fields, on a ridge with amazing views of Trisul.
Day 11: Ramni- Jhenjipani (2015 Mt)
13 km trek from Ramni to Jhenjipani. A good zigzagging track leads to open grassy grazing meadows. Snow peaks begin to emerge above the forest to the north. We then begin to climb steeply as the path moves diagonally through forests of rhododendrons, pines and holm oak with more pastures and shepherd huts.
Overnight: Tent

Day 12: Jhenjipani- Sinyartoli (2043 Mt)
12 km trek from Jhenjipani to Sinyartoli. The trail carries on down past small farms, through woods, to the spectacular suspension bridge across the Brithi Ganga gorges. After a very steep climb the path is almost flat, passing through fine rhododendron forest, with many streams and waterfalls.

Day 13: Sinyartoli - Dhakwani
10 km trek Sinyartoli to Dhakwani. This is a long, but spectacular day. The route starts a steep climb up into rhododendron forest, then descends gently to open meadows with views across to the Kauri Pass, and finally plunges down a very steep section to a river. From there a final climb brings us above the tree-line to large pastures. Overnight stay tent.

Day 14: Dhakwani - Tali via Kauri Pass (4268 Mt)
12 km trek Dhakwani to Tali via Kauri Pass. The climb up to the pass is made on a zigzag track to the top. From the pass the Himalayan summits seem to be arrayed before us in a stupendous arch. It is often said that this is one of the greatest mountain views in the world. Overnight tent.

Day 15: Tali - Auli (2519 Mt)
14 km trek from Tali to Auli. Overnight stay at the hotel in Auli (a popular skiing zone in India)

Day 16: Auli - Rishikesh
After breakfast drive to Rishikesh. On arrival check into Hotel. Evenign free.

Day 17: Rishikesh - Delhi
Morning free in Rishikesh to visit the Temples and Ashrams and later in the afternoon drive to Delhi. On arrival transfer to Hotel.

Day 18: Delhi Departure
Transfer to International Airport